Technical Details
Dhaka Metro / Dhaka Mass Rapid Transit system is being constructed as a part of Dhaka's 20-year long Strategic Transport Plan (STP). This transport system is designed to be noise-free, with noise barriers and vibration-free lines. Standard gauge rail track will be used with power provided by 1500V DC via overhead catenary (power line).
MRT Line-6
Capacity
Once operational, MRT line-6 will be able to carry 60,000 people per hour. This will consequently reduce travel time from Uttara to Motijheel to less than an hour despite having to go through a total of 16 stations. It currently takes about two hours to travel the distance on a regular day. When the service is in full operation, trains of six air-conditioned spacious cars will arrive every four minutes going each way at each of the 16 stations.
Rolling stock and infrastructure details for MRT6
Source: https://urbantransportnews.com/ The MRT Line-6 will feature 24 six-car train sets made of lightweight and highly durable stainless-steel. The commuter cars will measure 19.8m long, 2.95m wide, and 4.1m high. The maximum speed of the train is expected to be 100km/h.
CCTV cameras will be deployed inside and outside of the commuter cars to ensure the safety of passengers. Additionally, each car will have two air-conditioning units to beat the high temperatures and humidity in Dhaka. Each car will have four doors on each side.
The line-6 infrastructure includes automatic fare collection systems, platform screen doors, staircases, elevators, and escalators. Platform screen door (PSD) barriers used at the platform level will increase safety and increase efficiency. The length of each platform is expected to be approximately 180m.
Financing for MRT Line-6
JICA is providing approximately 75% or $2.13bn of the estimated investment of Line-6, while the Government of Bangladesh is funding the remaining 25%, which amounts to $690m. Other forms of grants for training and preparing studies are also being provided by JICA.
Construction
Source: https://dhakatribune.com/
Pre-construction work for the MRT Line-6 started in 2014. Between 2014 – 2016, the following surveys were undertaken:
Topographic Survey
Traffic Survey
Geotechnical Survey
Right of Way (ROW) Survey
Historical Importance/ Archeological (HIA) Survey
Environmental Baseline (EBL) Survey
Soil Electric Resistivity (SER) Survey and
Utility Verification Survey
Construction of the line has been divided into eight packages: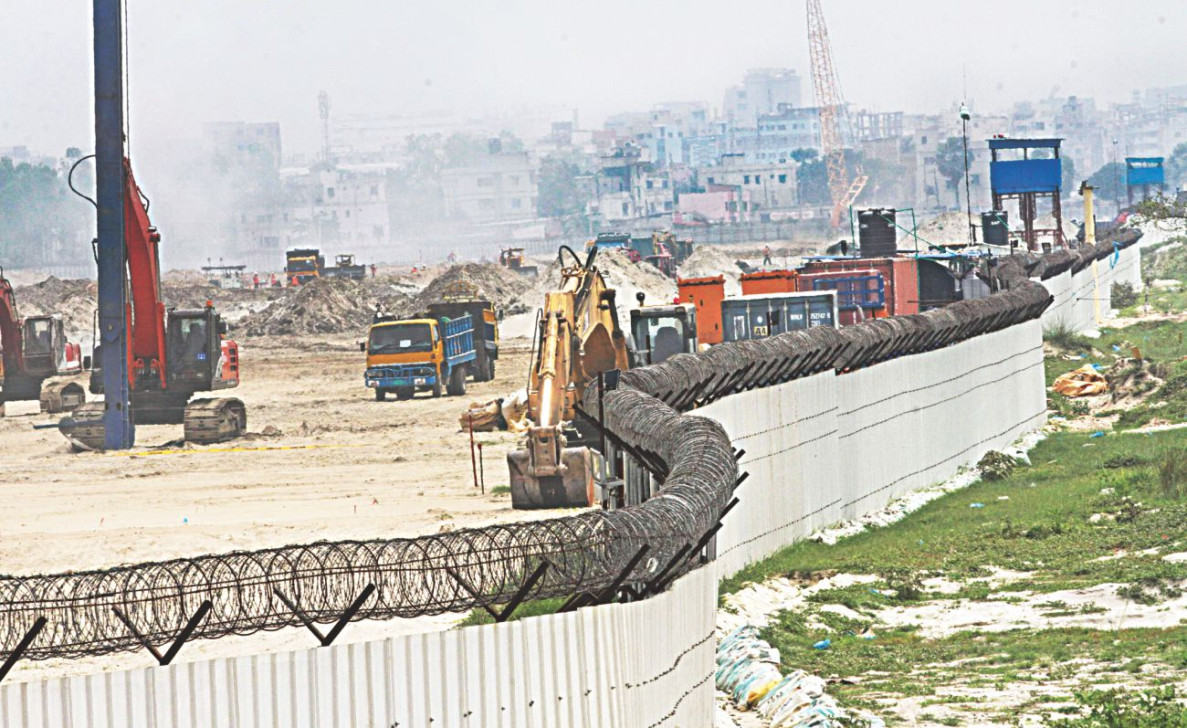 Source: Daily Star Online
CP-01 (Depot Land Development)
CP-02 (Depot Civil & Buildings)
CP-03, CP-04 (Viaduct & Stations, Uttara-Agargaon)
CP-05, CP-06 (Viaduct & Stations, Agargaon-Motijheel)
CP-07 (Electro-Mechanical Systems) and
CP-08 (Rolling Stock & Depot Equipment)